ASUHAN KEPERAWATAN GESTATIONAL DIABETES MELLITUS DENGAN APLIKASI TEORI SELF CARE OREM.
Keywords:
Gestational diabetes mellitus, Self care Orem, Supportive educative
Abstract
Angka kematian ibu merupakan cerminan mortalitas ibu pada masa kehamilan, persalinan dan nifas. Fokus penanganan ibu hamil dengan GDM adalah untuk menurunkan angka kesakitan maternal, kesakitan dan kematian perinatal. Asuhan keperawatan yang optimal diberikan pada ibu gestational diabetes militus untuk memandirikan klien dalam merawat diri dan meminimalkan terjadinya komplikasi pada ibu dan janinnya. Komplikasi dapat dicegah dengan mempertahankan keadaan normoglikemia selama kehamilan. Ners spesialis keperawatan maternitas diharapkan mampu memandirikan ibu hamil dengan GDM untuk melakukan perawatan terhadap diri sendiri agar tidak terjadi masalah kesehatan pada ibu dan janinnya. Tujuan umum dari penulisan ini adalah memberikan gambaran pada kasus ibu hamil dengan GDM dengan penerapan teori self care Orem. Metode penelitian Studi kasus. Aplikasi self care Orem (tahap Supportive educative) membuat Ibu GDM mampu melakukan perawatan diri untuk menjaga kesehatan ibu dan janinnya selama kehamilannya. Perawatan diri tersebut meliputi penatalaksanaan nutrisi, pemberian insulin, pemantauan glukosa darah, dan olah raga.
References
Abadi, A.(2010). Panduan penatalaksanaan kehamilan dengan diabetes mellitus. Diunduh dari: http://www.pogi.or.id/pogi/upload/downloadfile/710c74100005973f971efa03fc745066_protapdiabetesmilitusprotapdiabetesmilitus.pdf/ tanggal 1 juni 2013
American College of Obstetricians and Gynecologists Practice bulletin. (2000). Antepartum fetal surveillance. Clinical management guidelines for obstetrician-gynecologists. International Journal Gynaecol Obstet. 68:175-185.
American Diabetes Association.(2011). Standard of medical care in diabetes -2010. Care diabetes journal.org. 34 (1):1-6.
Dempsey, J.C., Sorensen, T.K., Williams, M.A., Lee, I.M., Miller, R.S., Dashow, E.E., Luthy, D.A.(2004). Prospective study of gestational diabetes mellitus risk in relation to maternal recreational physical activity before and during pregnancy. American Journal Epidemiol 159:663-670.
Ferrara, A.(2007). Increasing prevalence of gestasional diabetes mellitus: A public health perspective. Diabetes care. 30(2):S141-S146.
Gilbert & Harmon, (2003). Manual of high risk pregnancy & delivery. Third edition. United State of America: Mosby Elsivier.
Kaur, S., Behera, D., Gupta, D. & Verma, S.K.(2009). Evaluation of a 'Supportive education intervention' on self care in patiens with bronchial asthma. Nursing and midwivery research journal. 5(2): 124-132.
Knowler, W.C., Barrett-Connor, E., Fowler, S.E., Hamman, R.F., Lachin, J.M., Walker, E.A., Nathan, D.M. (2002). Diabetes Prevention Program Research Group: Reduction in the incidence of type 2 diabetes with lifestyle intervention or metformin. New England Journal of Medicine.346:393–403.
Moore, T.R. (2010). Gestational Diabetes Mellitus (GDM) Screening, Treatment & Follow-up Guideline. Diunduh dari: http://www.ghc.org/all-sites/guidelines/gestationalDiabetes.pdf/ tanggal 10 November 2012
National Diabetes Statistics (2011). National diabetes information clearinghouse (NDIC). Diunduh dari: http://diabetes.niddk.nih.gov/dm/pubs/statistics/ tanggal 10 Desember 2012
National Institute For Health and Clinical Excelence (2008). Diabetes in pregnancy: Management of diabetes and pregnancy and its complications from pre-conception to post natal periode. Diunduh dari: http://www.nice.org.uk/nicemedia/pdf/CG063Guidance.pdf/ tanggal 10 Desember 2012
National Institute of Diabetes and Digestive and Kidney Disease (2006). What I need to know about Gestational Diabetes. Diunduh dari www.diabetes.niddk.nih.gov /tanggal 10 Desember 2012
Nurviana, E.V., Siswati, & Dewi, K.S. (2007). Penerimaan diri pada penderita epilepsi. Diunduh dari http://eprints.undip.ac.id/10783/1/jurnal.pdf/ tanggal 2 Juni 2013
Orem, D.E. (2001). Nursing concepts of practice. Philadelpia: Mosby year book inc.
Parker, M.E.(2005). Nursing theories & nursing practice. Second edition. United State of America: F.A. Davis Company.
Perera, O.P, Nakash, M.B, Covarrubias, A.D, Cano, A.R, Torres, A.R, Gonzalez, C.O, Ortega, F.V,.(2007) A Medical Nutrition Therapy Program Improves Perinatal Outcomes in Mexican Pregnant Women With Gestational Diabetes and Type 2 Diabetes Mellitus. The Diabetes Educator. 35: 1004-1013.
Perkins, J.M., Dunn, J.P., Jagasia, S.M. (2007). Perspective in gestational diabetes mellitus: A review of screening, diagnosis and treatment. Clinical diabetes. 25(2): 57-62.
Pilliteri, A. (2003). Maternal & child nursing. (2nd ed). Philadelphia: J.B. Lippincot Company
Reeder, J.S., Martin, L.L., & Koniak Griffin, D.(2011). Keperawatan maternitas: kesehatan wanita, bayi & keluarga. (18th ed). Jakarta: EGC.
Setji, T.L., Ann J.B., & Feinglos, M.N. ( 2005). Feature article: Gestasional diabetes mellitus. Clinical diabetes. 23(1):17-24.
Suparman, E. (2003). Diabetes mellitus dalam kehamilan. Cermin dunia kedokteran No 139, 2003, 21.
Tomey, A.M. & Alligood, M.R.(2010). Nursing theorist and their work. Seventh edition. Published, St. Louis, Mo.: Mosby/Elsevier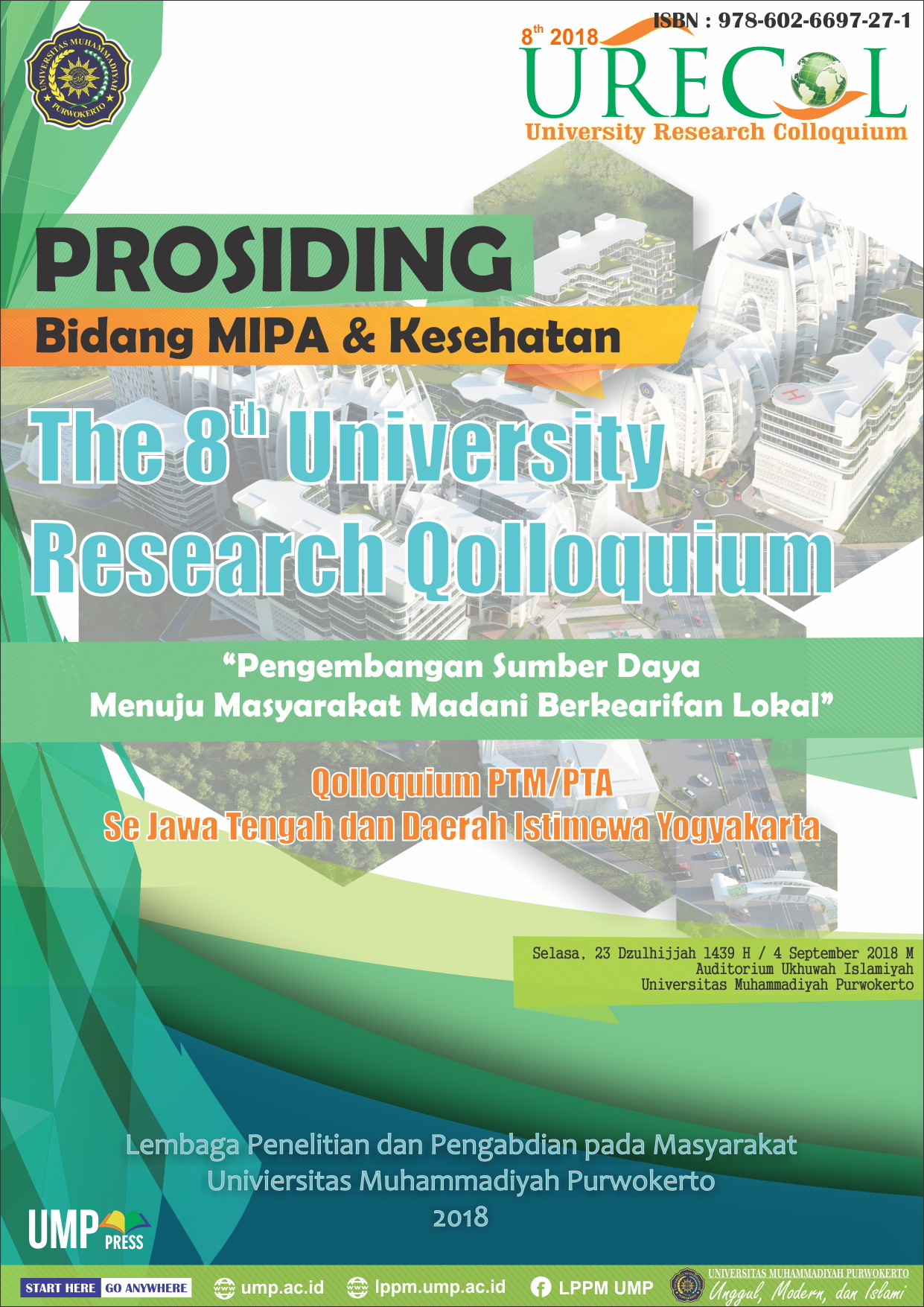 Downloads
How to Cite
Riyanti, E., Setyowati, S., & Afiyanti, Y. (2019). ASUHAN KEPERAWATAN GESTATIONAL DIABETES MELLITUS DENGAN APLIKASI TEORI SELF CARE OREM. Prosiding University Research Colloquium, 228–235. Retrieved from http://repository.urecol.org/index.php/proceeding/article/view/340
License
Copyright (c) 2018 Eka Riyanti, Setyowati Setyowati, Yati Afiyanti
This work is licensed under a Creative Commons Attribution-NonCommercial 4.0 International License.