Antiviral and Symptom Free Days for Confirmed Covid-19 Students
Keywords:
Covid-19, self isolation, antiviral, symptom free day
Abstract
Introduction: The limitations of health service facilities mean that Covid-19 case services are only for moderate and severe cases, while asymptomatic/mild cases are advised to selfisolate. The availability of antivirals for self-isolation patients is often limited, so the patient's recovery rate can be longer. The purpose of this study was to determine the difference in symptom-free days in Covid-19 patients who received and did not receive antivirals. Method: This type of analytic research is observational with a cross sectional approach. The research sample was 93 UMS students who were confirmed to have COVID-19 in March 2020 - August 2021. The research data was obtained by an online questionnaire. Data analysis was performed using the Mann Whitney test. Results: There were 32 self isolation Covid-19 patients who received antivirals (34.4%). In these patients, the symptom free days were 8.9 days; while the 61 patients (65.6%) who did not receive antivirals reported a symptom free day of 12.2 days. The Mann Whitney test obtained a p value = 0.023 indicating that there was a difference in symptom free days between Covid- 19 patients who received and did not receive antivirals. Conclusion: Giving antivirals to self isolation Covid-19 patients shortens symptom free days.
References
"Pertanyaan dan Jawaban Terkait Covid-19'" Kemenkes RI, kemkes.go.id. 2020
W. Ko, J. Rolain, N. Lee, P. Chen and C. Huang, " Arguments in favor of remdesivir for
treating SARS-CoV-2 infections," Int J Antimicrob Agents, 55(4):105933, 2020
M. Wang, R. Cao R, I. Zhang, X. Yang, J. Liu and M. Xu, "Remdesivir and chloroquine
effectively inhibit the recently emerged novel coronavirus (2019-nCoV) in vitro,", Cell
Res, 30(3):269–71, 2020
" Informatorium of Covid-19 Drugs in Indonesia," The Indonesian Food and Drug
Authority, Jakarta, 23–9 p, 2020
"Keputusan Menteri Kesehatan Republik Indonesia Nomor
HK.01.07/Menkes/5671/2021 tentang Manajemen Klinis Tata Laksana Corona Virus
Disease 2019 (Covid-19) di Fasilitas Pelayanan Kesehatan," Kemenkes RI, Vol. 3, p 1–
, 2021
Rejo, S. Iswahyuni, S.S.H. Sunaryati, A.Widiyanto, A.T. Darmayanti, and T.Atmojo,
"Efek Remdesivir pada Pasien Covid-19," J Ilm Permas, 11(2):247–54, 2021
"Buku Saku Protokol Tata Laksana Covid-19," Kementrian Kesehatan RI, Jakarta , 1–
p, 2021
Undefined, "Informatorium Obat COVID-19 di Indonesia," Badan Pengawas Obat dan
Makanan Republik Indonesia, Jakarta, BPOM RI, 49–51 p, 2020
Undefined, "Perizinan, Keamanan dan Efektifitas Obat Covid19," Badan Pengawas
Obat dan Makanan Republik Indonesi, Jakarta, BPOM RI, 1–26 p, 2020
M. Azhari and undefined, "The Relationship of Anxiety Level With Length of Stay
Corona Virus Disease 2019 (Covid-19) Patient's in Special Quarantine Bapelkes
Banjarbaru," Journal Mbuniv press.or Id ;1(1):30–7, 2021
A. Nugraha and Simanullang RH, "Dukungan Keluarga Terhadap Tingkat Kesembuhan
Pasien Covid-19 Di Ruang Isolasi Rumah Sakit Aminah," J Ilm Keperawatan Imelda,
;7(2):164–9. 2021
Z. Rahmatina, GA. Nugrahaningrum, A. Wijayaningsih, S. Yuwono, S. Social Support
for families tested positive for covid-19. Proceding of Inter-Islamic University
Conference on Psychology, 1(1), 1-8. 2020.
https://doi.org/10.21070/iiucp.v1i1.614
X. Yang, X. Yang, P. Kumar, B. CaoX. Ma, T. Li, Social support and clinical
improvement in covid-19 positive patients in China. Nursing Outlook, 68(6), 830–837.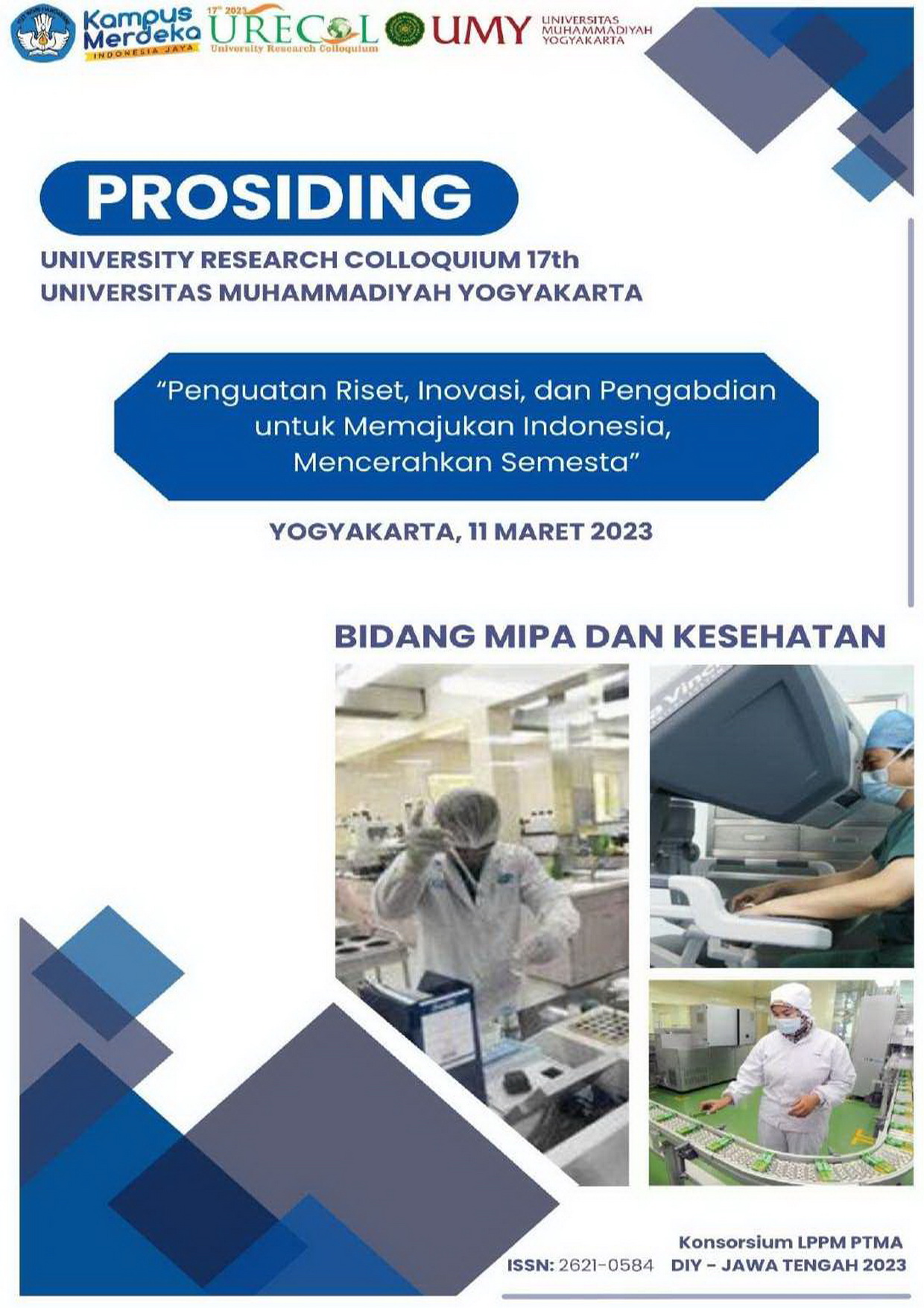 Downloads
How to Cite
Mahmuda, I. N. N., & Sifak, S. F. (2023). Antiviral and Symptom Free Days for Confirmed Covid-19 Students. Prosiding University Research Colloquium, 59–65. Retrieved from http://repository.urecol.org/index.php/proceeding/article/view/2675
License
This work is licensed under a Creative Commons Attribution-NonCommercial 4.0 International License.