Manajemen Fisioterapi pada Kasus Post-Operative Fraktur Supracondylar Humerus: Studi Kasus
Keywords:
Physiotherapy, Post-operative Supracondylar Humerus Fracture
Abstract
Supracondylar fracture of the humerus is the most common elbow fracture in children and usually occur in children between the ages of 5 and 7 years. Limitation of joint mobility is a common complication after surgery in the elbow area. In the patient Mr. E.M.W with a diagnosis of post open reduction internal fixation in a complete fracture of the left supracondylar humerus found movement pain problems, ROM limitations, decreased muscle strength and decreased function of the upper extremities. Physiotherapy interventions that given to patient such as infrared, muscle energy techniques, and active ROM exercise provide good changes such as decreased pain levels, increased left elbow flexion and extension ROM in both active and passive motion, and increased upper extremity function. For the left elbow flexor and extensor muscle groups that experienced a decrease in strength, there was no increase in muscle strength which could be due to the lack of frequency of physiotherapy sessions.
References
[1] V. Sharma and S. C. Sharma, "To Assess Prevalence of Supracondylar Fractures of
Humerus Among Patients Visited to Tertiary Care Hospital," vol. 09, no. 03, pp. 172–
175, 2022.
[2] M. He, Q. Wang, Z. Jingxin, and Y. Wang, "Efficacy of ultra-early rehabilitation on
elbow function after Slongo's external fixation for supracondylar humeral fractures
in older children and adolescents," J. Orthop. Surg. Res., vol. 16, no. 1, pp. 1–7, 2021,
doi: 10.1186/s13018-021-02671-4.
[3] M. Shah and M. V. Agashe, "Supracondylar Humerus Fractures: Classification
Based Treatment Algorithms," Indian J. Orthop., vol. 55, no. 1, pp. 68–80, 2021, doi:
10.1007/s43465-020-00285-2.
[4] A. I. Faqih, N. Bedekar, A. Shyam, and P. Sancheti, "Effects of muscle energy
technique on pain, range of motion and function in patients with post-surgical elbow
stiffness: A randomized controlled trial," Hong Kong Physiother. J., vol. 39, no. 1, pp.
25–33, 2019, doi: 10.1142/S1013702519500033.
[5] G. A. Schmale, S. Mazor, L. D. Mercer, and V. Bompadre, "Lack of benefit of physical
therapy on function following supracondylar humeral fracture: A randomized
controlled trial," J. Bone Jt. Surg., vol. 96, no. 11, pp. 944–950, 2014, doi:
10.2106/JBJS.L.01696.
[6] R. Widowati, "Efektifitas Terapi Akupunktur dan Inframerah dalam Menurunkan
Nyeri Muskuloskeletal pada Lanjut Usia," Ef. Ter. Akupunkt. Dan Inframerah
Dalam Menurunkan Nyeri Muskuloskeletal Pada Lanjut Usia, 2017, [Online].
Available: https://core.ac.uk/download/pdf/211770806.pdf
[7] P. Choksi and K. Tank, "To Study the Efficacy of Muscle Energy Technique on
Muscle Strength and Flexibility in Patients with Knee Osteoarthritis," Indian J.
Physiother. Occup. Ther. - An Int. J., vol. 10, no. 3, p. 40, 2016, doi: 10.5958/0973-
5674.2016.00080.0.
[8] L. A. Roring, "RANGE OF MOTION EXERCISE: A BASIC TRAINING IN SPORT
REHABILITATION," vol. 4, no. 1, pp. 88–100, [Online]. Available:
http://file.upi.edu/Direktori/FPOK/JUR._PEND._OLAHRAGA/197103282000121-
LUCKY_ANGKAWIDJAJA_RORING/RANGE_OF_MOTION_EXERCISE_A_BASI
C_TRAINING.pdf
[9] H. V. Vinansius, "PPENATALAKSANAAN FISIOTERAPI DENGAN MODALITAS
INFRA RED (IR), DAN TERAPI LATIHAN PADA PASCA ORIF DENGAN
PEMASANGAN PLATE AND SCREW FRAKTUR HUMERUS 1/3 DISTAL
SINISTRA," Univ. Widya Husada Semarang, 2020.
[10] P. De Almeida et al., "Red (660 nm) and infrared (830 nm) low-level laser therapy in skeletal muscle fatigue in humans: What is better?," Lasers Med. Sci., vol. 27, no. 2,
pp. 453–458, 2012, doi: 10.1007/s10103-011-0957-3.
[11] I. G. Y. Putra, N. M. S. Muryani, and P. I. Daryaswanti, "Infra-Red Therapy Reduces
Lower Extremity Pain in Elderly with Osteoarthritis," NurseLine J., vol. 6, no. 1, p.
74, 2021, doi: 10.19184/nlj.v6i1.19735.
[12] A. Hidayati and T. B. Santoso, "the Effect of Infrared and Muscle Energy Technique
on Increasing Joint Range of Motion in Patient With Post Open Reduction Internal
Fixation 1 / 3 Distal Humerus Patients : a Research Artikel," pp. 513–523, 2021.
[13] D. A. Nugraha, R. A. Rahmawati, and M. Jannah, "Efektivitas Ultrasound Theraphy
Dan Active Passive Exercise Pada Pasien Post Fracture Elbow Dalam Mengurangi
Nyeri Dan Menambah Lingkup Gerak Sendi," Physiother. Heal. Sci., vol. 3, no. 1,
pp. 22–25, 2021, doi: 10.22219/physiohs.v3i1.17158.
[14] R. M and J. Al Fajri, "Pendidikan Kesehatan Latihan Range Of Motion Aktif dan
Pasif," J. Abdimas Kesehat., vol. 3, no. 3, p. 255, 2021, doi: 10.36565/jak.v3i3.198.
[15] W. Karcher, J. Devillers, P. Garrigues, and J. Jacob, "Information for Users," Spectr.
Atlas Polycycl. Aromat. Compd., pp. 3–16, 1991, doi: 10.1007/978-94-011-2668-7_2.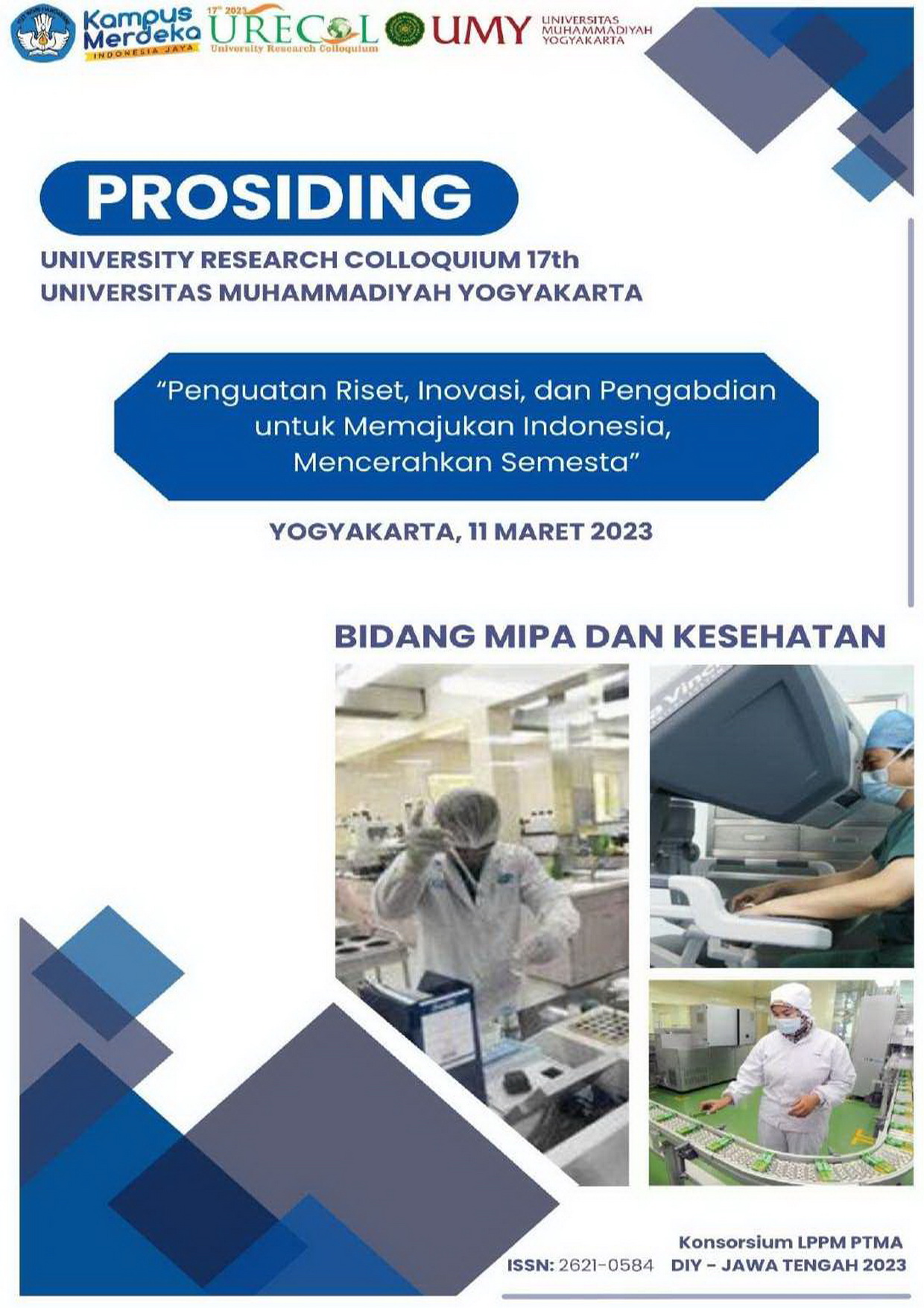 Downloads
How to Cite
Bintari, N. J., Fatmarizka, T., & Pradana, A. (2023). Manajemen Fisioterapi pada Kasus Post-Operative Fraktur Supracondylar Humerus: Studi Kasus. Prosiding University Research Colloquium, 6–14. Retrieved from http://repository.urecol.org/index.php/proceeding/article/view/2667
License
Copyright (c) 2023 Nur Juniarti Bintari, Tiara Fatmarizka, Anas Pradana
This work is licensed under a Creative Commons Attribution-NonCommercial 4.0 International License.