Respon Psikologis Mahasiswa Keperawatan pada Masa Pandemi Covid-19
Keywords:
Respon Psikologis, Mahasiswa Keperawatan, Pandemi Covid-19
Abstract
Latar Belakang : Kecemasan dapat mempengaruhi rasa percaya diri, serta dapat mengganggu kehidupan dan pikiran seseorang. Mahasiswa kesehatan mungkin juga mengkhawatirkan kesehatan mereka sendiri dan kesehatan orang lain, termasuk kinerja mereka serta ketakutan yang berkaitan dengan bencana atau pandemi yang sedang terjadi saat ini. Tujuan : Mengetahui Respon Psikologis Mahasiswa Keperawatan UMS pada Masa Pandemi Covid-19. Metode : Jenis penelitian ini adalah deskriptif kuantitatif dengan pendekatan cross sectional. Penelitian ini menggunakan kuesioner DASS 21 yang telah diterjemahkan dalam Bahasa Indonesia, kemudian disebarkan menggunakan google forms. Data dianalisis secara univariat dengan distribusi frekuensi. Hasil : Terdapat 105 responden dengan mayoritas jenis kelamin perempuan (84.8%), usia rata-rata : 22 tahun, mayoritas mengalami kecemasan sedang (41%). Kesimpulan : Penelitian ini menunjukkan bahwa mahasiswa keperawatan tingkat akhir mengalami gejala kecemasan karena pandemi covid-19.
References
1. World Health Organization. Global
surveillance for COVID-19 caused by
human infection with COVID-19
virus. World Health Organization.
2020.
2. Xiao C. A novel approach of
consultation on 2019 novel
coronavirus (COVID-19)-related
psychological and mental problems:
Structured letter therapy. Psychiatry
Investig. 2020;17(2):175–6.
3. Woodgate RL, Tailor K, Tennent P,
Wener P, Altman G. The experience of
the self in Canadian youth living with
anxiety: A qualitative study. PLoS
One. 2020;15(2):2–18.
4. Febriyanti E dan, Mellu A. Tingkat
Kecemasan Mahasiswa Keperawatan
Dalam Menghadapi Pandemi Covid-19
Di Kota Kupang. Nurs Updat J Ilm
Ilmu Keperawatan P-ISSN 2085-5931
e-ISSN 2623-2871 [Internet].
2020;11(3):1–6. Available from:
https://stikes-nhm.ejournal.
id/NU/index
5. Masdar H, Saputri PA, Rosdiana D,
Chandra F, Darmawi D. Depresi,
ansietas dan stres serta hubungannya
dengan obesitas pada remaja. J Gizi
Klin Indones. 2016;12(4):138.
6. Islam A, Barna S, Raihan H, Khan N.
Depression and anxiety among
university students during the COVID-
19 pandemic in Bangladesh: A webbased
cross-sectional survey. PLoS
One [Internet]. 2020;15(8 August):1–
12. Available from:
http://dx.doi.org/10.1371/journal.pone.
0238162
7. Elsalem L, Al-Azzam N, Jum'ah AA,
Obeidat N, Sindiani AM, Kheirallah
KA. Stress and behavioral changes
with remote E-exams during the
Covid-19 pandemic: A cross-sectional
study among undergraduates of
medical sciences. Ann Med Surg
[Internet]. 2020;60(November):271–9.
Available from:
https://doi.org/10.1016/j.amsu.2020.10
.058
8. Novitasari, Teguh, Kurniawan K.
Gambaran Tingkat Stress Mahasiswa
Profesi Ners Universitas Kusuma
Husada Surakarta Selama Study From
Home (Sfh) Di Masa Pandemi Covid-
19. Gambaran Tingkat Stress Mhs
Profesi Ners Univ Kusuma Husada
Surakarta Selama Study From Home
Di Masa Pandemi Covid-19.
2020;46(1):1–12.
9. Hudiyawati D, Muhlisin A, Ibrahim N.
Effectiveness of progressive muscle
relaxation in reducing depression,
anxiety and stress among
haemodialysis patients attending a
public hospital at Central Java
Indonesia. Int Med J Malaysia.
2019;18(3):3–10.
10. Santoso A, Ardi WR, Luhur Prasetya
R, Dwidiyanti M, Wijayanti DY,
Mu'in M, et al. Tingkat Depresi
Mahasiswa Keperawatan di Tengah
Wabah COVID-19. J Holist Nurs Heal
Sci [Internet]. 2020;3(1):1–8.
Available from:
https://ejournal2.undip.ac.id/index.php/
hnhs
11. Jeloudar SY, Lotfi-goodarzi F.
Predicting teachers' locus of control
and job performance among MA and
BA teachers senior secondary schools.
Int J Humanit Soc Sci.
2012;2(12):248–52.
12. Özdin S, Bayrak Özdin ?. Levels and
predictors of anxiety, depression and
health anxiety during COVID-19
pandemic in Turkish society: The
importance of gender. Int J Soc
Psychiatry. 2020;66(5):504–11.
13. Ambarwati PD, Pinilih SS, Astuti RT.
Gambaran Tingkat Stres Mahasiswa. J
Keperawatan Jiwa. 2019;5(1):40–7.
14. Vellyana D, Lestari A, Rahmawati A.
Faktor-Faktor yang Berhubungan dengan Tingkat Kecemasan pada
Pasien Preoperative di RS Mitra
Husada Pringsewu. J Kesehat.
2017;8(1):108.
15. Wang X, Hegde S, Son C, Keller B,
Smith A, Sasangohar F. Investigating
mental health of US college students
during the COVID-19 pandemic:
Cross-sectional survey study. J Med
Internet Res. 2020;22(9).
16. Colangelo LA, Craft LL, Ouyang P,
Liu K, Schreiner PJ, Michos ED, et al.
Association of sex hormones and sex
hormone-binding globulin with
depressive symptoms in
postmenopausal women: The
Multiethnic Study of Atherosclerosis.
Menopause. 2012;19(8):877–85.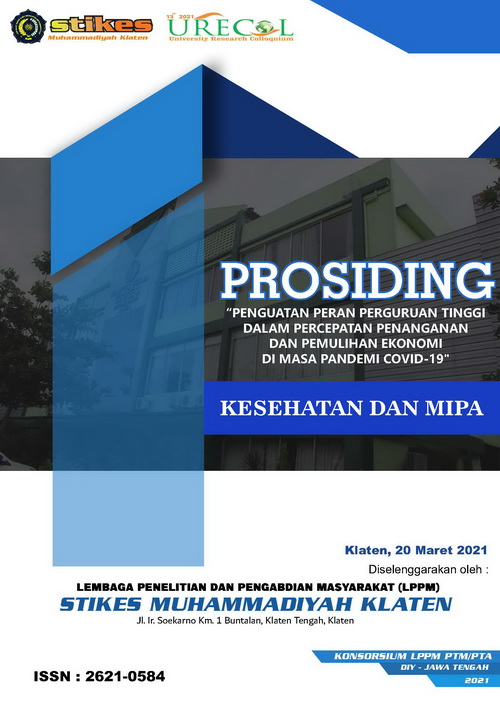 Downloads
How to Cite
Kamila, H. S., & Hudiyawati, D. (2021). Respon Psikologis Mahasiswa Keperawatan pada Masa Pandemi Covid-19. Prosiding University Research Colloquium, 738–742. Retrieved from http://repository.urecol.org/index.php/proceeding/article/view/1472
License
Copyright (c) 2021 Hunain Suci Kamila, Dian Hudiyawati
This work is licensed under a Creative Commons Attribution-NonCommercial 4.0 International License.