THE EFFECT OF PRENATAL YOGA ON LABOR
Keywords:
pregnant women, type of delivery, prenatal yoga
Abstract
Background: Prenatal yoga affects the strengthening and flexibility of the perineal, vaginal, anal
sphincter, and urinary tract muscles and is followed by an increase in pelvic diameter. This affects
the delivery process. Routine exercise can facilitate minimal trauma labor and reduce the duration
of each phase of labor. The purpose of the study was to determine the effect of prenatal yoga on the
type of delivery in third trimester pregnant women in the Karanglewas Community Health Center
Banyumas. Research method: This type of research uses a pre-experimental design method using an
intact-group comparison design, namely the measurement of the case group and control group in the
same sample and not chosen randomly. The subjects of this study were pregnant women in the third
trimester aged over 34 weeks with 40 respondents consisting of 20 pregnant women in the case group
and 20 pregnant women in the control group. The analytical method in this study uses Chi square.
The results showed that the results of the chi-square correlation analysis, obtained a probability
value (p) of 0.031 with a significance level of 5% (0.05). Because the value is 0.031 < 0.05, it can be
stated that prenatal yoga has a significant effect on the type of delivery in pregnant women and Odd
Ratio: 7.364 (CI: 1.337-40.548). The conclusion is that prenatal yoga has an effect of 7,364 times on
pregnant women to be able to give birth spontaneously vaginally compared to pregnant women who
do not do prenatal yoga.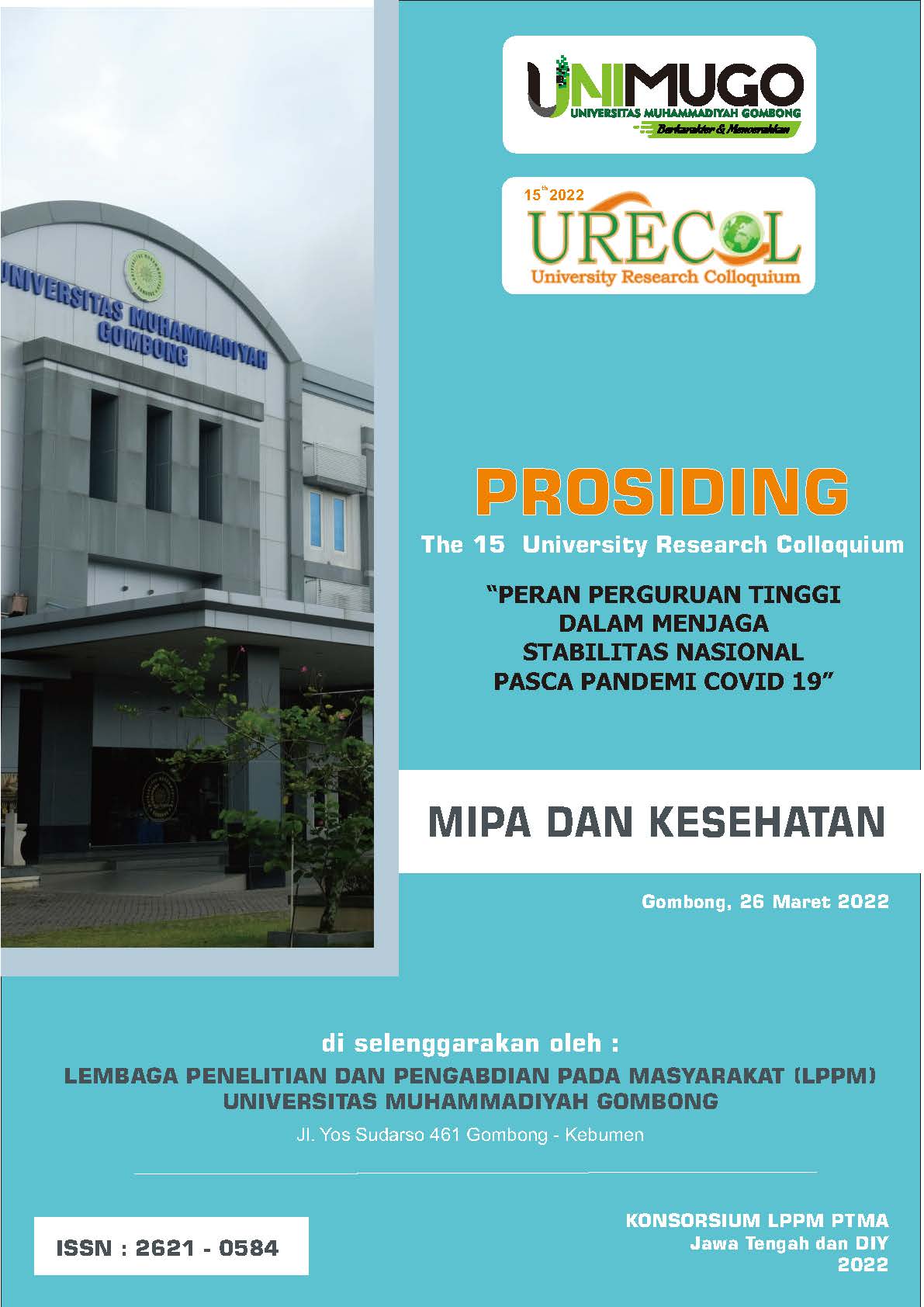 Downloads
How to Cite
Sumarni, S., Sulastri, E., & Astuti, D. P. (2022). THE EFFECT OF PRENATAL YOGA ON LABOR. Prosiding University Research Colloquium, 27–35. Retrieved from http://repository.urecol.org/index.php/proceeding/article/view/1914
License
Copyright (c) 2022 Sumarni Sumarni, Ety Sulastri, Dyah Puji Astuti
This work is licensed under a Creative Commons Attribution-NonCommercial 4.0 International License.