Indeks Prediktif Under-reporting Case TBC Rumah Sakit Di Kudus, Jawa Tengah
Keywords:
Indek Prediktif, Under-reporting, Rumah sakit
Abstract
Kasus tuberkulosis yang tidak dilaporkan adalah pasien yang tidak dilaporkan ke sistem surveilans TB nasional setelah diagnosis sehingga perkiraan beban TB tidak akurat. Penelitian ini mengkaji beberapa indikator (indeks) penyebab kasus TB kurang terlapor di RSUD Kota Kudus. Penelitian ini menggunakan desain metode campuran Explanatory. Dalam studi kuantitatif menilai sembilan indikator kasus tuberkulosis yang tidak terlapor untuk mengetahui berapa indikator yang berkaitan dengan kasus yang tidak terlapor. Sedangkan pada studi kualitatif menggali persepsi dan informasi dari tenaga medis dan dokter rumah sakit mengenai alasan pemilihan indikator kasus under-reporting. Analisis regresi logistik bertingkat dilakukan untuk data kuantitatif, dan analisis konten untuk data kualitatif. Temuan dari bagian studi kuantitatif dan kualitatif dicampur pada interpretasi. Hasil penelitian menunjukkan bahwa beberapa indikator yang berhubungan dengan kasus TB yang kurang terlapor dalam analisis multilevel adalah: 1) kompetensi dokter (OR = 0,09; CI95% = 0,05 hingga \ 0,17; p <001), 2. Kompetensi perawat (OR = 0,05) ; CI95% = 0.02 hingga 0.09; p <001), 3. Komitmen perawat (OR = 0.13; CI95% = 0.07 hingga 0.24; p <001), 4. Smear negative (OR = 0.35; CI95% = 0.18 hingga 0.67; p = 0,002), 5. TB paru ekstra (OR = 15,45; CI95% = 8,08 sampai 29,51; p <0,001), dan 6) manajemen rumah sakit (ICC = 11,24%; CI95% = 2,20% sampai 41,62%). . Dapat disimpulkan bahwa terdapat enam indeks yang berhubungan dengan kasus under-reporting TB di RSUD Kudus.
References
1. Tollefson D, Ngari F, Mwakala M,
Gethi D, Kipruto H, Cain K, et al.
Under-reporting of sputum smearpositive
tuberculosis cases in Kenya.
Int J Tuberc Lung Dis.
2016;20(10):1334–41.
2. Chin DP, Hanson CL. Finding the
Missing Tuberculosis Patients.
2018;216(March):675–8.
3. Kesehatan K, Indonesia R. Data Healt
Indonesia 2015.
4. Melosini L, Vetrano U, Dente FL,
Cristofano M, Giraldi M, Gabbrielli L,
et al. Evaluation of underreporting
tuberculosis in Central Italy by means
of record linkage. BMC Public Health
[Internet]. 2012 Dec 21;12(1):472.
Available from:
http://bmcpublichealth.biomedcentral.c
om/articles/10.1186/1471-2458-12-472
5. Lytras T, Spala G, Bonovas S,
Panagiotopoulos T. Evaluation of
Tuberculosis Underreporting in Greece
through Comparison with Anti-
Tuberculosis Drug Consumption.
PLoS One. 2012;7(11):7–12.
6. Li T, Shewade HD, Soe KT, Rainey JJ,
Zhang H, Du X, et al. Under-reporting
of diagnosed tuberculosis to the
national surveillance system in China:
an inventory study in nine counties in
2015. BMJ Open [Internet].
2019;9(1):e021529. Available from:
http://www.ncbi.nlm.nih.gov/pubmed/
30696665
7. Riono P. Eliminasi Tuberkulosis di
Indonesia : Tantangan & Peluang.
2018; Available from:
http://www.depkes.go.id/resources/do
wnload/info-terkini/materi pra
rakerkesnas 2018/Pakar TBC.pdf
8. Kementerian Kesehatan RI. Peraturan
Menteri Kesehatan RI No
565/MENKES/PER/III/2011 tentang
Strategi Nasional Pengendalian
Tuberkulosis. 2011;
9. Kemenkes. Data dan Informasi Profil
Kesehatan Indonesia. 2016.
10. DinkesJateng. PROFIL KESEHATAN
PROVINSI JAWA TENGAH. 2015;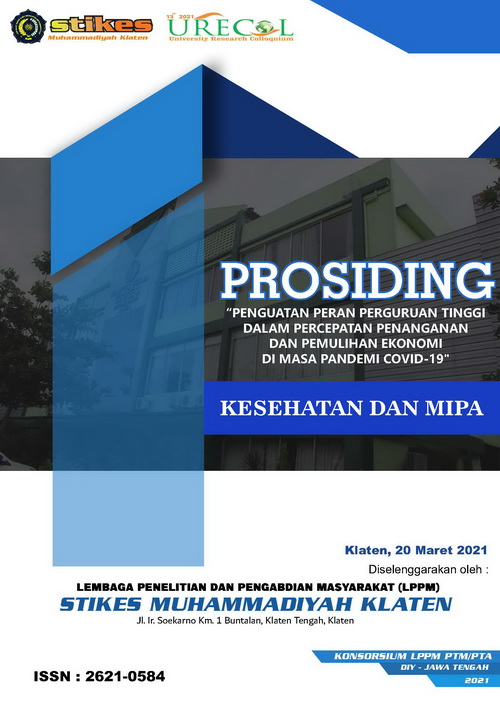 Downloads
How to Cite
Rusnoto, R., Murti, B., Reviono, R., Widyaningsih, V., Pamungkasari, E. P., & Wahyuni, C. U. (2021). Indeks Prediktif Under-reporting Case TBC Rumah Sakit Di Kudus, Jawa Tengah. Prosiding University Research Colloquium, 1116–1123. Retrieved from http://repository.urecol.org/index.php/proceeding/article/view/1527
License
Copyright (c) 2021 R Rusnoto, Bhisma Murti, R Reviono, Vitri Widyaningsih, Eti Poncorini Pamungkasari, Chatarina Umbul Wahyuni
This work is licensed under a Creative Commons Attribution-NonCommercial 4.0 International License.